Aliens of Earth--3D 3rd person Action/Adventure with Destructible Environments
---
There is already a
thread for this game
under Upcoming iPhone and iPod Touch Games, but it will universal so I think it's appropriate to post about it in the Upcoming iPad Games section as well.
Summary:
Aliens of Earth is a 3D third-person Action/Adventure game for the iPhone, iPod Touch and iPad with destructible environments and gameplay that is inspired by games such as Super Metroid and The Guardian Legend. You control a transforming mech with both flight and humanoid forms with the ability to transform whenever you want - though flight mode is only really usable in larger, open areas. What this means is that you will be running around in humanoid form when exploring smaller caves, corridors, rooms and other smaller environments. These areas will consist of slightly slower gameplay with an emphasis on exploration and puzzle solving, similar to a game like Super Metroid or Metroid Prime. Larger, more open areas will consist more of action and exploration and will be best experienced with the faster and more agile flight mode. But at any time, if you want to get a closer look at something, you'll be able to transform back to humanoid form and walk around.
But there's a couple of additional elements which serve to make the experience more unique:
The first is that the environments are destructible. However, these environments are made up of different materials which take different weapons to destroy. Basically as you progress through the game, your ability to destroy the environment grows as well. In addition, through most of the game, you'll be able to re-visit old areas, allowing you to more fully explore those areas and find things you may have missed. This is accomplished using the custom voxel engine, as described below.
In addition, there will be some "Cellular Automata" based physics, allowing for limited amounts of flowing water, lava, even for parts of the environment to fall once support is lost. This will allow you to use the environment to aid you in battle, such as destroying enough rock to cause a stalactite to fall onto an enemy.
The voxel engine is being used to allow malleable environments and for volumetric physics using Cellular Automata but also to further the aesthetic of the game. The goal is to produce a game created using a combination of 3D pixel art and controlled procedural environments. Even the menus, text, HUD and so forth is drawn using voxels - with some subtle animation to highlight the 3D nature.
Story Synopsis:
This is a rough draft and will be modified and improved in the future.
The year is 2050.
Humanity has been actively seeking intelligent "alien" life for nearly 200 years. When it is finally discovered, the alien life is unlike anything we ever expected . . .
You are a pilot of the new VR-1X3 transforming battle mech, based on technology just "discovered" within the last decade. Being the first, and currently only, prototype unit you've not seen any action yet. But this time it's different, strange giant - alien - machines have been crawling out of the Earth. Only a few have emerged so far, but they destroyed several cities in the area before finally being taken out. Most feel that a large, concentrated attack by these creatures could not be stopped by humanity. That their final goal is to invade the surface and eradicate the human species.
The aliens that have emerged are coming from a giant cave in New Mexico that suddenly appeared within the last decade. All explorations within have failed. All attempts to blow up the material or alter the cave in any way have failed. Now you're going in there to find out where these alien creatures are coming from and to stop them from invading the surface.
[Excerpt from the other thread, showing screenshots and a video]
I've been working on the "Marble Caves," the first area of the game. Note only the flight mode is shown, thus you see only wide open areas so far. The ship shown is not complete and will look more interesting when it's finished. While it still has a long way to go, I'd like to show some work in progress texturing experiments: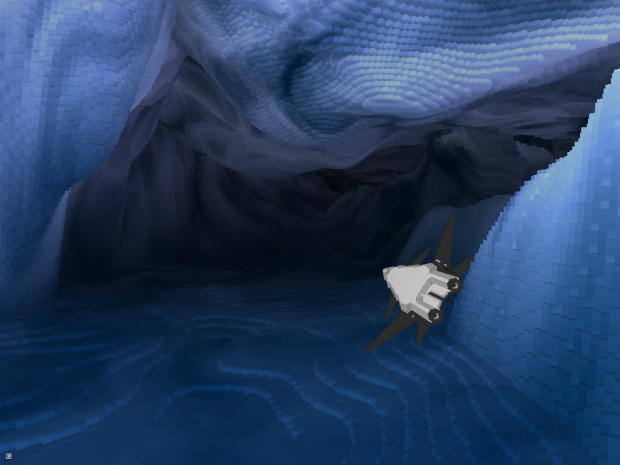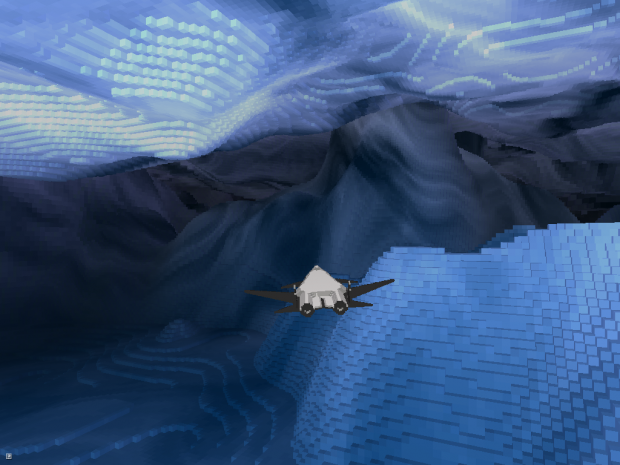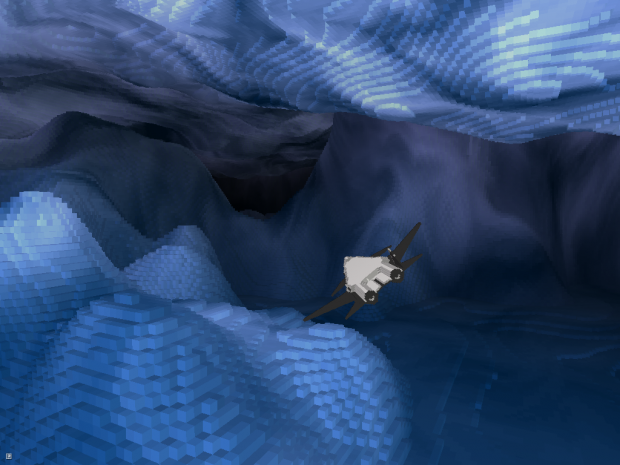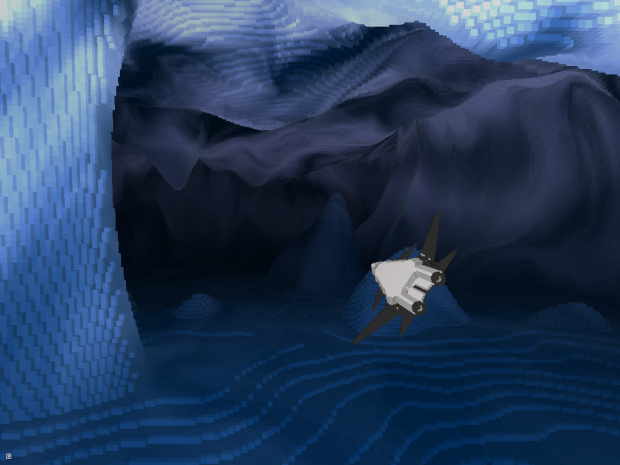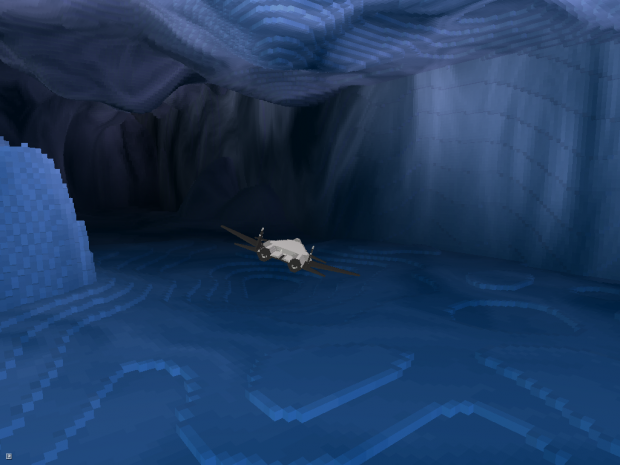 Note that you see the ship flying around inside the caves, the mipmapping is working without holes or gaps.
I've also recorded a short video of a test flight through the caves. Note that enemies are still disabled, I'll be showing off combat soon. For some reason the recording software caused annoying pauses in the video, because those pauses aren't there normally. This was recorded from the simulator because I thought it'd be easier but I'll do a video off the real device soon.
Anyway it's recorded at iPad resolution, please ignore the pauses. Also note that camera collision is not currently implemented but it will be of course.
(Uses the older lighting, generator, surfacing and ship control/camera. A new video will be coming soon)
Youtube link
|
Pop Up
Please note that this is still all work in progress, expect big improvements as the project progresses.
---
Last edited by voxelate; 06-06-2011 at

03:56 AM

.