90s Stick Figure Trivia: Coming Soon!
---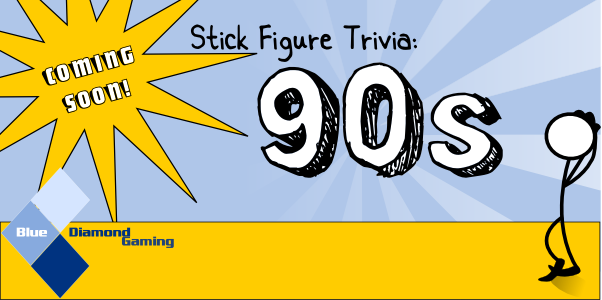 Hi everyone! We are Blue Diamond Gaming, a couple of indie iPhone developers who are getting ready to release our first game! We would love ANY feedback/criticism you could give us about the game. Also, any feature ideas you'd like to see or even any material you'd love to see covered in a future trivia game. Thanks so much for checking us out!
Check out our official
site
.
Follow the progress on
Twitter
.
Or
Facebook
.
We are proud to introduce our trivia series to the app store! Stick Figure Trivia is not just another trivia game on the app store. We have robust gamecenter leaderboards with fierce daily competitions. We will also be introducing new question packs periodically with all new questions for each category!
The first game in the series will be the decade that brought flannel back in style and pushed glam rock off the charts…the 90s! We have plans to release several other genres of trivia including 00s, 80s, 70s, Star Wars, The Office, and Beatles! If you have any other suggestions for trivia genres, please let us know!
Key Features Include:
Gamecenter support – All of the robust leaderboards with fierce competition and entertaining achievements you've come to expect from gamecenter games.
Daily quizzes – Take 1 shot at our bi-weekly quiz, which consists of 25 brand new questions to compete for the best score on these leaderboards. Each day of the week will consist of a different category, and the weekends will draw from all categories to test your general knowledge!
Additional questions – Love the game so much you wish there were more? We will release additional question packs for each category periodically over the life of the app!
Customizable question base – You can pick and choose which categories of questions you want to download additional packs for.
Hilarious sounds – All of our sound effects and music have been recorded using the developers voices!
Colorful retina graphics – All of our games come fully supported for retina devices with very colorful, eye catching graphics!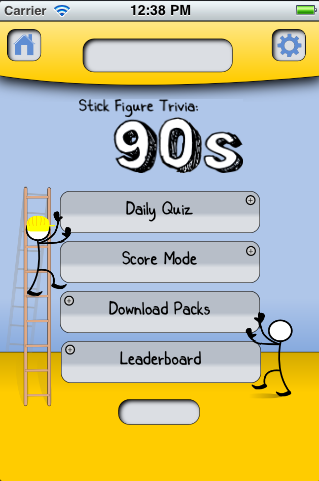 This is the home screen where you can choose which game mode you'd like to play. The Daily Quiz will feature a random set of 25 questions pulling from the entire database including any extra question packs we release in the future. The leaderboards for these will be locked in once the next daily quiz is available. You can only compete in each daily quiz once to ensure people don't just memorize the answers.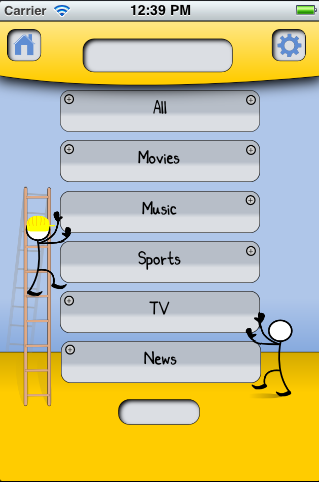 After you choose the game mode you can then choose which category of questions you'd like to be asked.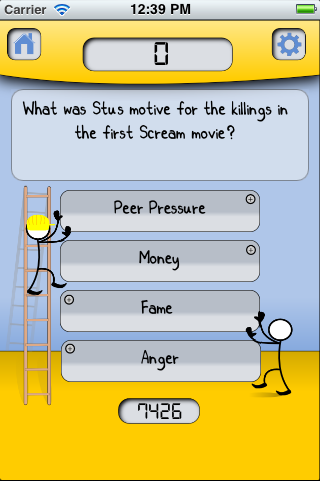 This screen shows the first question of the game. You have 20 seconds to answer the question and the points are counting down with the time, so be quick!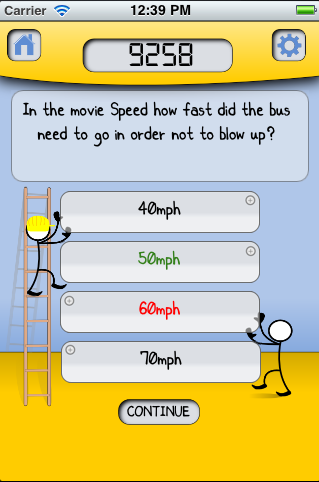 You have 2 chances to get the questions right! Be careful though, if you get one wrong you get a 3 second and thus a 2500 point penalty
---
Last edited by BlueDiamondGaming; 07-11-2011 at

12:18 PM

.