BallPilot is free until the 18. of june
---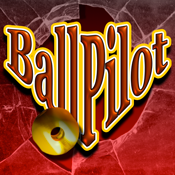 BallPilot by Twinbits Entertainment
===============================
It is free until the 18. of june, go and get it..
===============================
Hopefully the update to version 1.2 with graphic improvements and a completely new bonus level is available in the App Store next week.
Feel free to upgrade to the new version when it's out..
Please take a minute to rate and review our App to support us,
happy rolling..
This game is really nice for a short break on the way somewhere, when you have nothing to do as to wait. Try this moment to come on the first place of the BallPilot Leaderbord in OpenFeint. We have just released an update to the App Store with some improvements and a completely new Bonus Level with different wether conditions during the game. Please feel free to give us any comments, we will post some promo codes this day, so stay tuned here and join us on Facebook. Happy rolling..
Features :
• Colorful levels and environments with many of touchable elements!
• 10 detailed level
• 6 different ways to play the game
• Very easy to learn gameplay applicable to play for kids and adults!
• Find helpful objects and use your skillfulness to reach the next level
• Try to master the integrated Achievements and become a BallPilot with BallPilot Star awards!
• Brag to your friends about your achievements via Facebook and Twitter!
• Educational value: Do some training for your reaction and your skill to concentrate!
• Get your personal Highscore
Here is a youtube link :
Youtube link
|
Pop Up
Have a look on our homepage :
www.twinbits.de
or follow us on Facebook :
www.facebook.com/BallPilot
Link to the App Store :
Available in the App Store