Shifted another match-4 game ohh noes!?!
---
The next game I'm working on is currently named Shifted. I'm working on this game by myself and hoping to finish in about a week.
I thought some people would find the process of making a game interesting. Hopefully I can also get some feedback from you folks to help make the game better.
It's a match-4 game with a unique control scheme. The idea is you'll move boxes by changing gravity based on which way you tilt the device. Then you'll be able to place boxes that will not be influenced by gravity to help navigate like colored boxes next to each other.
Technical Goals:
- Run on my crappy iphone 3g (if it runs on that it'll run one pretty much anything)
- GameCenter leaderboards
- Twitter and Facebook integration (never done these, so might take some time)
Well It's only day 2 of development, so there isn't a ton to show.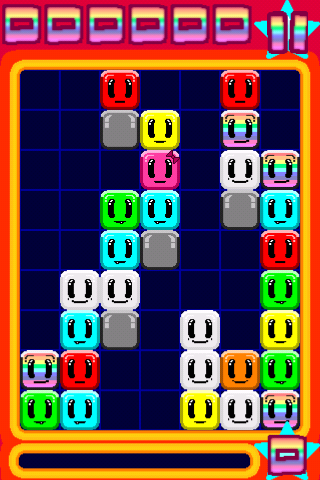 Youtube link
|
Pop Up
Quick breakdown of whats been accomplished so far.
Day 1:
- Art, I drew all of the standard resolution stuff I needed for the game
Day 2:
- Implemented Accelerometer controls
- The blocks move based on changed gravity
- Solid Blocks can be spawned/removed by tapping
- Screen can be cleared by swiping the screen
If your interested follow me on twitter.
http://twitter.com/#!/BIG_Programmer
I'll try to post updates every day.