Tilt & Sprout (version 1.1) - More levels/improved graphics
---
ITUNES LINK
-
http://itunes.apple.com/app/tilt-sprout/id428832572?mt=8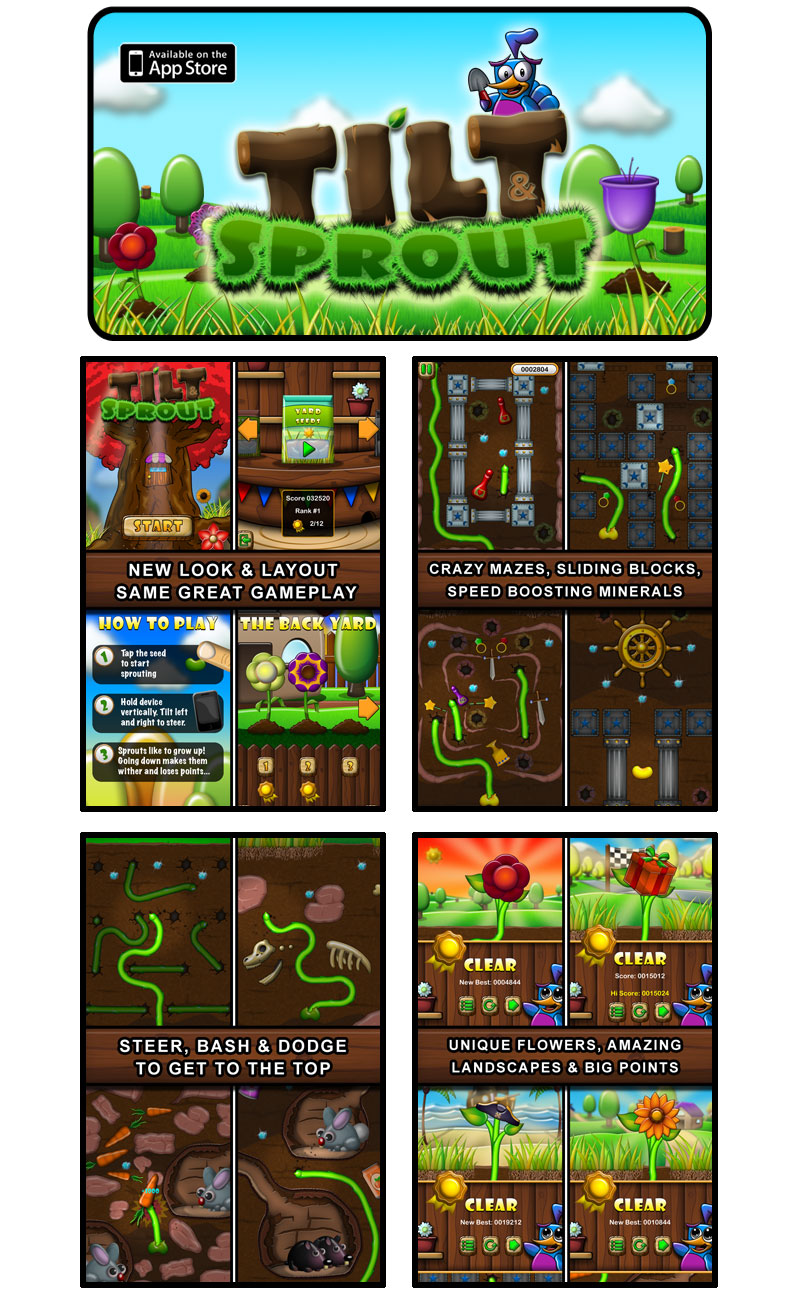 DESCRIPTION
TILT & SPROUT is one of the more refreshingly different games on the iPhone/iPod touch where you guide a sprouting seedling towards the earth's surface by tilting their iPhone/iPod Touch all the while planning their underground route to avoid rocks, pipes and even ancient dinosaur bones. On the way to the top there are sparkling minerals to collect that boost the growth speed of the seedling. Increasing speed adds to the challenge, but all minerals need to be collected to blossom fully, ace the level, and earn a Gold Rosette.
GAME FEATURES
Simple tilt controls …intuitive to play!
Can you grab the flower boosting minerals on each level to obtain the gold rosette?
A huge variety of cute flora to be discovered
Each seed packet introduces a new game mechanic that can help and hinder
60 FUN-FILLED LEVELS (and growing) across a variety of imaginative cartoon-style landscapes
WHAT'S NEW IN TILT & SPROUT - VERSION 1.4
• Visit Tilt's Brand New Store
• A complete graphical update to the whole game (shiny retina graphics!)
• New Scoring system with Game Center Leader Boards bringing a completely new game play dimension
• Stuck in the mud on a level - NEW SKIP OPTION now available
• New level displays and in-game options
• Optimized to run FULL SCREEN on iPhone 5
Visit us at -
www.twiddly.co.uk
Follow us on Twitter -
@TiltAndSprout
Like us on Facebook at -
http://goo.gl/jg7CH
ITUNES LINK
-
http://itunes.apple.com/app/tilt-sprout/id428832572?mt=8
---
Last edited by twiddly; 09-22-2012 at

04:25 AM

. Reason: Latest version Tilt & Sprout (version 1.3)