[MMORPG]Ragnarok Online The Rebellion of Valkyrie for Android & iOS Crossplatform MMO
---
I just have to lol at this but this game has been out since march. And while I was at the xda-forum (mainly for android) I just found out about this game and I must say that I just sh*t my pants.
An actual real mmorpg for both devices. Not to mention it's Ragnarok, one of the most popular mmorpg out there since the good old days. Now I never played the game but damm it looks good
It's only out in Korea apparently but there are translation patches for the android versions which is fantastic and playable. I'm not sure about the iOS.
If you guys plan on getting this game, it is advised to play on the 4th server - screens below as well and Source/Links.
Heres the translated info of the game:
Quote:
[System]
- Level / japrebel limit (lv35-> 40/J30-> 35), is a former japrebel 35 (former City offers skills items initialization)
- Add indeon [Mino agate indeon Add
Monster item drop from the card to be refined and modified
-item card removal (free limited time available)
- Inventory functions (sorting items / pet slot / board slots)
- strengthen the numeric display for smelting
- Monster maximum damage reduction ( bereubeureu local / Porta field / Wild Forest)
[Skill fix]
1. test
- two-handed Quicken [attack speed by 60 rise / Critical increment rise]
-, representing a 80 percent chance of slowing-down effect monsters Edit]
- underbelly stroke [Damage ]
2. Eokolrayiteu
- Holly hammer [Increase Increased damage and Stun Chance]
- Holy Light [Damage]
- Hill [sp consumption and cooldown reduced]
★ Ragnarok Valkyrie Updates memorial commemorating the revolt of a large free sale! ★
★ ★ progress events
1. Post an event
of App Store users only daet writing Ruby paid by the lottery!
(daet Posts input character name / server name down along with jusyeoya items may be available)
2. Download the event
are limited to receiving a prize valued at one million won through the lottery payments!
3. Cafe new events
and members, increasing the cafe opened Ruby support! event details check
Small Gameplay:
Youtube link
|
Pop Up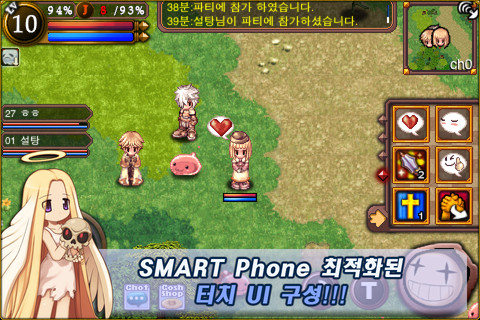 Server Names:
1 - 발하라 - Valhalla
2 - 미미르 - Mimir / Mimil
3 - 아스가르드 - Asgard
4 - 포링 - Poring (here most of us non korean play on)
5 - (NEW)티바스- Tibas / Tivas
6 - 알프하임 - Alpheim/Alfheim
For Android (Translations and community is really strong):
http://forum.xda-developers.com/show....php?t=1706435
Andro Team (Translation Team):
http://vserver487.mypioneers.de/forum/index.php
For iOS:
http://itunes.apple.com/kr/app/lageunalokeu-balkiliui-banlan/id523060797?l=en&ls=1&mt=8
---
Last edited by DrNub; 07-23-2012 at

02:09 AM

.