Slice the Ice - an unique, ice-slicing physics puzzler
---
Hi everybody,
we are proud to announce our latest game -
Slice the Ice
- which has been submitted to Apple earlier this week. If all goes to plan the release date is around the mid of October.
- best things first, let's start with some screenshots and a trailer -
(please ** click ** an image below for a larger screenshot)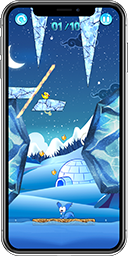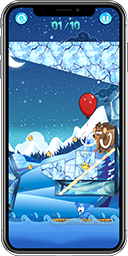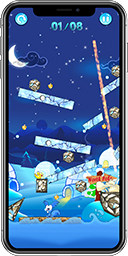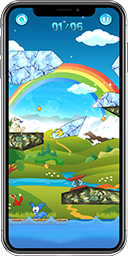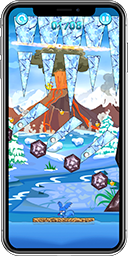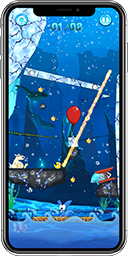 Youtube link
|
Pop Up
What is the game about?
Quote:
• SLICE THE ICE- A WEASEL IN A PUZZLE!

How far would a blue polar weasel have to go to rescue his lost treasure?

A plane has just crashed under mysterious circumstances, and the adorable weasel inside has just lost his entire collection of Yellow Rubber DUCKS! Slice the ice, collect the acorns, and take the help of various objects and animals to guide the golden ducks back to Scrappy in this vibrant, brain-teasing and adorable physics- based puzzler!

Take Scrappy on this puzzling journey across snowy terrains, grasslands and underwater reefs spanning 5 WORLDS and 100 LEVELS!

Download NOW and experience a slice of all these amazing features:

* Adorable Character
Scrappy the blue polar weasel is sure to put a smile on your face with his wide range of cute expressions!

* Innovative gameplay mechanics
Go to extreme lengths to return the ducks back to their rightful owner by making use of Rockets, Springs and even a Polar Bear! But do remember- every SLICE counts!

* Realistic, fluid physics
Collect acorns by slicing ice in various shapes and sizes, and at the same time, guide the rubber ducks to Scrappy!

* Rich graphics
Experience Scrappy's different worlds in colorful, vibrant HD!

* Dozens of levels
Puzzle your way through 5 different worlds across 100 challenging levels!

* Worldwide Leaderboards
Compete with your friends via Game Center!

* iCloud enabled
Sync your saved games across all iOS devices!

* Social Integration
Share your scores on Facebook and Twitter and check-in to Heyzap!

Scrappy needs your help, and he will do anything to get those yellow rubber ducks back! All he needs from you is an extremely simple favor- just SLICE the ICE!
So, in summary it can be said
Slice the Ice
is a member of the slicing puzzle games. You can freely destroy the made-out-of-ice 2D environment by slicing blocks out of the ice formations. A very simple one-touch gameplay is guaranteed.
For a better ranking in the worldwide leaderboards (via Gamecenter) try to solve each level with as less slices as possible. Also, the less time you need and the more golden nuggets you collect the higher you score will rank. You can quickly solve a level, but it takes some thinking to solve it perfectly!
Slice the Ice
will be available as an universal freemium game with native support for iOS 5.x compatible iPhone/iPod/iPad devices and iCloud savegame syncing.
You can play the first world - 20 levels - for free! If you like the game you are welcome to purchase 4 more worlds for a total of 1.98$.
Slice the Ice
is a co-production from
Fancy Factory
(Developer) and
Playcaso
(Publisher).
Do you have any questions? Please let me know!
Happy slicing!
Cheers, Axel from Fancy Factory
For more on Scrappy's adventures, please visit
Facebook:
http://www.facebook.com/slicetheice
Twitter:
http://www.twitter.com/playcaso
---
Last edited by FancyFactory; 10-05-2012 at

09:47 AM

.