Gameboy Styled Games
---
Greetings,
I would like to discover more iOS games inspired by or designed to emulate the old Gameboy titles. The following are some that I am aware of. Please let me know if you are aware of any others. Just to be clear, I am looking for monochrome amber, grayscale, or black & white pixel art games only, not retro games in general. (Note: The occasional use of color highlights is acceptable for this list provided that the distinctive feature of the game is monochrome pixelated art.) Thanks!
1-Bit Hero by Mudloop
Thread
1-Bit Ninja by kode80 LLC
Article
Sequel:
Remix Rush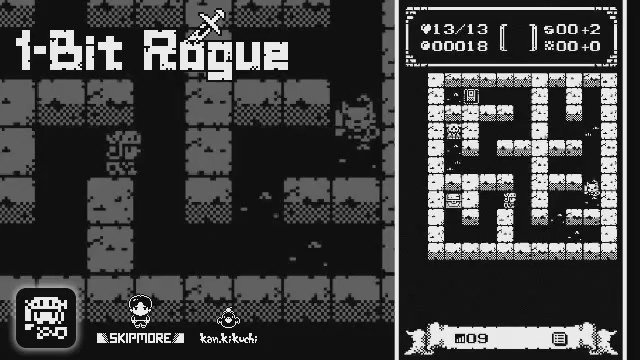 1-Bit Rogue by Kan Kikuchi
Thread
2-Bit Cowboy by Crescent Moon Games
Review
2048-Retro by Julius Sewing
Appshopper
4NR by P1XL
Review
8bit doves by Nitrome
Review
Sequel:
Endless Doves
A Little Turbulence by With, LLC
Thread
Blockboy by EO Games
Review
The Blocks Cometh (Gamebot) by Halfbot
Article
BWBan by Emanuele Feronato
Thread
Canabalt by Semi Secret Software, LLC
Review
Downwell by Devolver Digital
Review
Ending by Aaron Steed
Review
Evil Robot by Nikki Ussery
Thread
Game Guy by Park Productions
Thread
Game Stew Studio
TOF1
|
TOF2
|
Eclipse
Shard
|
Legacy
|
Shield
Gentlemen Ricochet Mini by Bītse Games
Thread
Hatchi by Portable Pixels
Thread
Impossible Pixel by 99 Up
Thread
Impulse by Matthias Falk
Thread
Into the Dim by Happymagenta
Thread
Jack B. Nimble by Sean Noonan
Thread
Jack N' Jill by Rohan Narang
Thread
Kale in Dinoland by The Rotting Cartridge
Thread
Magic Mansion by Nitrome
Thread
Pix'n Love Rush by Bulkypix
Review
Pygmies Hoglet by maxmobile
Review
Stardash by OrangePixel
Review
Super Scrapped Robot by bureaubureau
Thread
Tiny Dangerous Dungeons by Jussi Simpanen
Thread
To the Throne by Raredrop Games
Thread
Visoriser by Quadra Software
Thread
---
Last edited by retr0spective; 10-27-2016 at

03:00 PM

.