New Game: King of Mercs
---
The battle to pacify the Titans hordes has just begun! PLAY FOR FREE and join tens of thousands worldwide to drive the titans hordes from our glorious continent in King of Mercs-online game!
Zeus, Poseidon, Hades, Ares, and other gods and thousands of players require your help in the fight against Titans hordes threat. Play as a Spartan, an Athenian or a Persian, and build up a guild to destroy the evils of this world. But remember, the rift among other mercs and guild runs deep.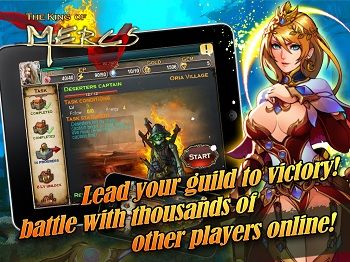 King of Merc is a new kind of MMORPG for iDevice featuring hundreds of things to do.
✔ Join other players worldwide to kill evil titans.
✔ Forge and combo precious equipment to help you in your fights.
✔ Exhibit your strength and become the Santo of the main cities.
✔ Seize seats in various temples to gain considerable bonus.
✔ Upgrade your guild and fight other guilds to take control of Crete Island
✔ Make real friends when fighting together on our glorious continents.
✔ Challenge other players directly for intensive PvP.
✔ Send your guildmates shipments of money and weapons!
✔ Hire other strong mercs to increase your capability.
✔ Plan strategy in live private chat or guild chat to defeat G-Boss.
✔ Plan clan tasks and Guild war to overcome a rival Guild
✔ In-app virtual money reward everyday!!
Still not enough? A live chat experience let you socialize with other player in three different channels.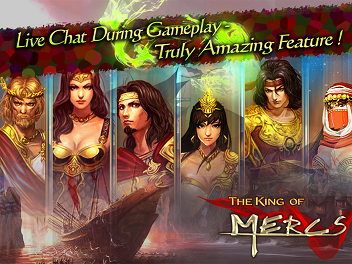 Now you probably wonder, do I still have a chance if I join the game now? And the answer is YES every person has a chance whenever you join. Compared to some other games where more ancient players have gathered a fortune this game economy is made to neither profit the higher levels nor the players who pay real money. What about strength? Well here is the deal. As you progress you will get more advanced gear letting you rule over those of your own level range. After a while you will be able to participate in the G-War of Crete Island. A warring system where whatever your level is you still are contributing to your guild point.
What more to say then that this game is FREE. So don't hesitate and come try it out.
Apple Store download link
https://itunes.apple.com/us/app/king...584301540?mt=8
Note: A network connection is required to play this online game.
Works with iPhone 3GS, 4, 4S, 5, iPod touch 3rd, 4th & 5th gen, and all iPads
Requires iOS 4.3 or later
What is new and soon to be.
Patch 1.0.1
-Minor bug fixes.
Patch 1.02 (Waiting for approval)
1 Added FAQ ("Help" found in main interface of the first three cities and in SYS-help).
2 Added a World Boss feature.
3 Added Amethyst in the shop, which can be used to combine Purple Equipments
4 Added referee function.
5 More space available in chat system.
6 Revised text for all part of the game.
7 Differentiate guild members in different colors.
8 Tips to accelerate forging equipment in Blacksmiths.
9 Game rating notifications will appear under certain circumstances.
10 Fixed various glitches.
---
Last edited by mountagon; 02-04-2013 at

07:38 PM

.