iPad mini Giveaway for a limited time only: Celebrate Launch of ADD Me!
---
I would like to give away an iPad mini in celebration of releasing my app ADD Me-MMO Code Finder in US.
One Lucky Winner Will Walk Away with an iPad Mini!
To enter the iPad mini giveaway,
Step1) Download ADD Me-MMO Code Finder for FREE
https://itunes.apple.com/us/app/add-me-mmo-code-finer/id599875041?l=ja&ls=1&mt=8
Step2) Tweet from ADD Me.
*Please do not delete #hashtag; Otherwise, you are disqualified.
This giveaway starts on February 28th and ends on March 3rd , at 23:59 PST. One entry/person. Multiple entries will be disqualified, and this campaign is only open to US residents.
Please make sure to follow @addmetips on Twitter because we will be notifying winner via Direct Message and @addmetips and you must follow us in order for you to be notified.
ADD Me is a BBS app to find and get MMO codes of the top-ranked iOS games super quick.
You can just copy the MMO Code button and paste it anywhere to send a "add me" request quickly.
[FEATURES]
1. Copy & Paste
You don't have to write down MMO Code anymore as well as type it to send a "add me" request. Find a player you wan to be a friend in your game app and just tap "Copy Code." It is copied to clipboard and paste it anywhere to send.
2. Your code submission
Just add your code. Remember your code, so no typing it over and over. Codes published automatically on other player's code list.
3. Prize Challenge
You can earn points by just tweeting and have a chance to win Awesome Gift at random draw. (1 tweet=1 point)
[ADD Me listed the top-ranked iOS games below]
-Clash of Clans
-The Simpsons™: Tapped Out
-Dragonvale
-Rage of Bahamut
-Legend of the Cryptids
-Modern War
-Castle Age HD
-Dark Summoner
-Crime City
-Blood Brothers (RPG)
-Lord of the Dragons
[Note]
ADD Me is unofficial app and no relationship with the listed apps on ADD Me.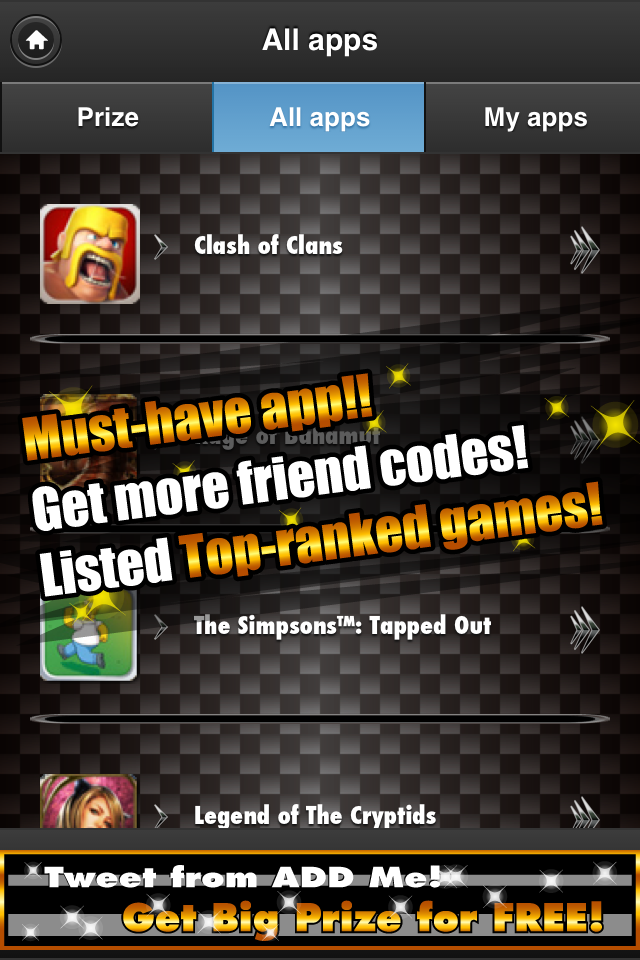 ---
Last edited by soydesu; 02-28-2013 at

12:36 AM

.