Block Fortress - Hints and Tips Thread
---
TO DO LIST:
Add weapons section.
RECENT ADDITIONS:
Moved some tips and linked,
Started to organise first two posts,
Made some space for new weapons section.
Was asked in the general thread to say what I could with regards to hints and tips, so thought I would start an official (in the loose term) help thread here in the general section.
Full credit will be given to people's ideas here.
Put your tips and il credit you with what you have to say!
Also don't be afraid to post questions specific to advice you need for this game.
MAIN THREAD:
http://forums.toucharcade.com/showth...=1#post2715702
Explosive
http://forums.toucharcade.com/showth...=181228&page=4
Also the first post on page two is very good!
Mcree+Aventador+kaspergreenday+sambosung
http://forums.toucharcade.com/showth...=181228&page=5
I will do my best to update this daily, the game is a beast!
Dreathor's Tips
1- At the start of the game, try to survive the first round with pistol and the barracks alone as it is possible and the longer you can hold on to your money, the better prepared you will be for later waves.
2- Alternatively, on wave one (if you have upgrades) place down two mines at the outer edge of the map. They are hard to defend at first but when more enemies start to come you will need your active mines close to your main base (especially at wave 20+) Buy yourself a plasma rifle, you should be able to afford this on wave one if you have it unlocked.
3- on wave one (without upgrades) if your not so high in levels then you need to gain experience before doing anything fancy, go ahead and put your barracks in the middle of the highest concentration of minerals, buy a couple of mines and place them behind your barracks, on the opposite side from where the waves will come from. After that, cover your base in 2-3 plasma guns.
4- USEFUL UPGRADES LIST (IN ORDER and subject to change)
1: upgrade basic mine to cost no power (alternatively get light spotter on starter gun to help with your turrets)
2: upgrade plasma guns
3: laser towers shoot in dark ability
4: upgrade plasma rifle to eliminate reload time and boost its damage
5: upgraded advanced mines to not use any power
6: upgrade laser towers to not use any power
7: finish upgrading all turrets to not use power and the ability to shoot at night
5- Dont dismiss guns that do little damage, a lot of them can be upgraded to create status inducing effects!
6- when placing turrets be mindful of how you position them, guns need line of sight to fire!!
7- if you place a turret inside a 28 block you will only have one line of sight to shoot from, DONT DO THIS!
(although in certain situations where you need to hold a choke point it can actually work wonders)
Here is a picture of how to get maximum firing arc with a simple base design: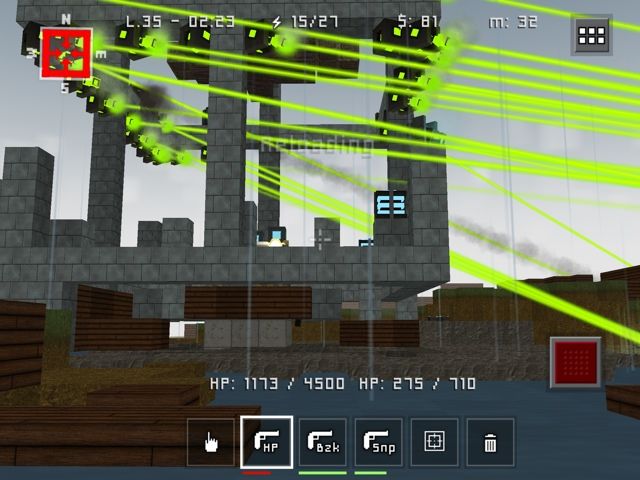 8- once you get the plasma rifle upgraded you can solo up to wave 3/4 easy, so do this and put down as many basic and advances mines as possible. Then when you get into difficulty make either one tower on your barracks, or four towers around your barracks for maximum LOS then put down as many lasers as you can afford. If you have the ability where they can shoot in the dark you should be good for another few waves until you need to upgrade.
Be careful not to accidentally overwrite your farm save, it helps to have two or three copies just in case.
10- EXP doubler is a good way to support forsaken however as the levels are limitless and as far as I am currently aware, once you have high enough levels to unlock all the turrets the only advantage to higher levels is an increased health Pool. This isn't to say a bad thing though, as later levels will enable you to don some armour and run around with an upgraded hammer like Chuck Norris and Rambo. Just be careful that you can still get that health back at some point. Regeneration is in some ways better than maximum!
11- basic lights are good but they can create line of sight problems for your ranged defences! As soon as you unlock the spotter place a few towers noting down their optimal range. 3-4 placed around your base should be good enough for the first night for maximum circumference. At a certain point you won't need any lights at all with the correct block upgrades though.
12- if your still early on in the upgrade scene, try making a laser tower like this. It's simple to build and is just a big pole with guns around it, it will cause problems around level 20 but it's a good start;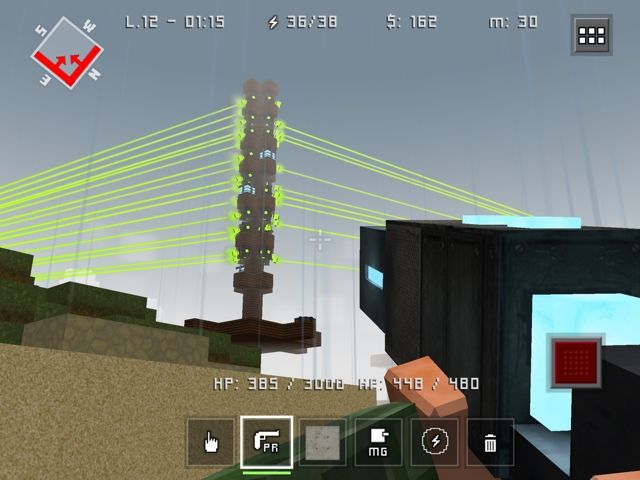 13 - There is no undo button, but if you delete items placed in the same build phase you get all your resources back.
Also many blocks can be upgraded to give back 100% resources regardless of what wave or build phase you are on... Which I think is necessary for going into the long achivement category for survival
AND some of my quotes from the main thread which may be of some use;
Tech blocks are used to future proof bases in later waves, up until now I have been building with wood but if you do that and try to replace it further down the line you can kiss your base goodbye in a long game. The roof is made of wood though, so replacing or expanding when it comes to hitting wave 60 is going to be cheap in theory.
For example: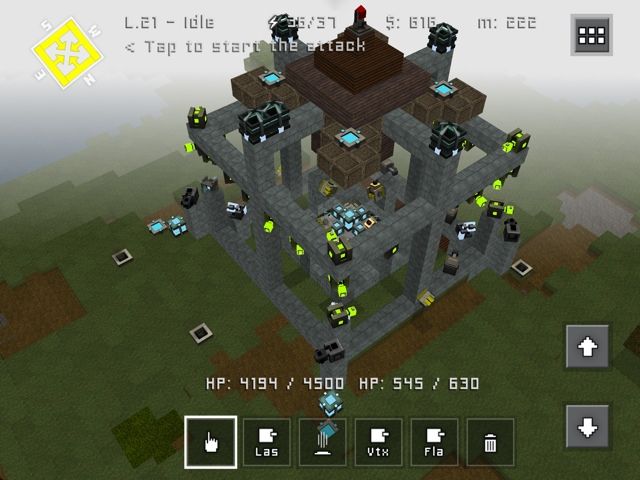 If you manage to get to wave 20 you get attacked from all directions might be good to keep in mind for future planning
Handintoasters tips:
Mineral deposits are those tiny cubes on the ground. You need to put mineshafts on top of them. I believe mineshafts are the only way to get minerals while playing. (Just for anyone wondering)
Rare minerals let you upgrade items in the craft menu on the home screen of the game. You get different rare minerals on different maps.
DEVELOPER TIPS (foursaken)
Nice base! And YES, you are correct... downward and sideways facing turrets are an absolute must to cover yourself at closer ranges. That of course is the tradeoff... downward facing allows for close range fire support, and top mounted guns allow for long ranged fire support...
---
Last edited by Dreathor; 03-17-2013 at

12:11 PM

.