OddBalls for iOS free promo codes [Universal]
---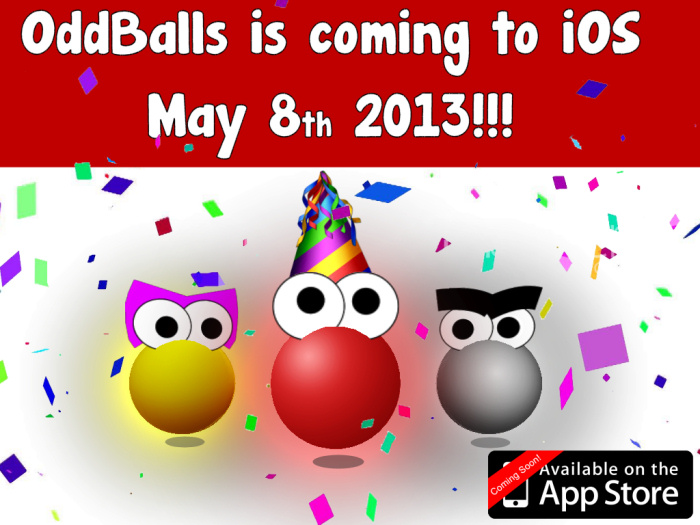 OddBalls is hitting the App Store on Wednesday May 8th, but you can try it out now with one of the free promo codes listed below!
________________________________________________
Release: May 8, 2013
Devices: Universal
________________________________________________
Game Details:
OddBalls is a fun puzzle game featuring realistic physics. With a focus on providing progressively more challenging puzzles, OddBalls offers an excellent mix of gameplay with both strategy and skill. There are 3 OddBalls each with special traits: one bounces, one floats and the other is made of heavy metal. Using these traits to your advantage will help you solve over 80 puzzle levels, collect energy, earn powerups, and uncover the secret storyline behind the OddBalls.
Features:
• Clever physics based puzzles
• Cute 3D graphics (supports retina display)
• Intuitive touch controls
• 3 different OddBalls with multiple powerups
• Over 80 interactive levels with moving platforms, fans, magnets and more
• Game Center Leaderboard support
• Storyline with multiple endings and memorable end game battles
Trailer:
Youtube link
|
Pop Up
Free Promo Codes:
LMXTJTNLN4PX
7J79NNYLXWTP
Y4JNH3HWNWKA
3YLLMHEELAWM
N7N64AMRXN9T
Become a Fan:
Facebook
Twitter
Velvety Couch Games
Thanks!
---
Last edited by Velvety; 05-06-2013 at

10:49 PM

.