The Juggles - A new game about juggling furry creatures!
---
Hey guys, were Digital Panda Studios and this is our new game 'The Juggles'
The Juggles is an upcoming puzzle/strategy/reaction arcade style game for the iOS and Android platforms. The Juggles features simplistic core gameplay elements mixed in with challenging stages to achieve a game that is accessible to players of all skill but allows for higher skilled players to excel.
Features:
• Simple tap controls
• Cute and recognizable 'juggle' characters
• A wide range of customization for your Juggles
• Available across a range of platforms and devices
• Lots of phases to keep gameplay fresh and interesting
• Score multipliers and bonus stages
• Experience and leveling system
Juggling in the game is a comfortable balance of easy to pick up but difficult to master, juggling only requires a simple tap on a 'juggle' to send them flying back into the air. A juggling line is established about a quarter of the way from the bottom of the screen with the experience bar, juggles can only be click below that line (this is to stop people spam clicking anywhere on screen)
The aim of the game is simple, don't run out of lives and get the highest score possible. Lives are lost when you drop a juggle. The main gameplay is broken up into 3 parts, action phases, rest phases and bonus stages. Action phases introduce new elements to the gameplay which changes how the 'juggles' are manipulated and move, with rest phases being a small break in between action phases. The bonus stages are randomized events that give the player an opportunity to build up more points without the fear of loosing a life.
Here's a few screenshots from an alpha build so there's a high chance of things being changed and improved, and feel free to ask question if there's anything you would like to know or leave suggestions on what you think could be added to make this game even better!
Thanks DPS
***EDIT***

THE JUGGLES HAS BEEN RELEASED AND IS NOW AVAILABLE FOR DOWNLOAD ON ANDROID AND iOS!

iOS Download: https://itunes.apple.com/us/app/the-juggles/id662934371?ls=1&mt=8

Android Download: https://play.google.com/store/apps/d...lease&hl=en_GB

Check out our release trailer below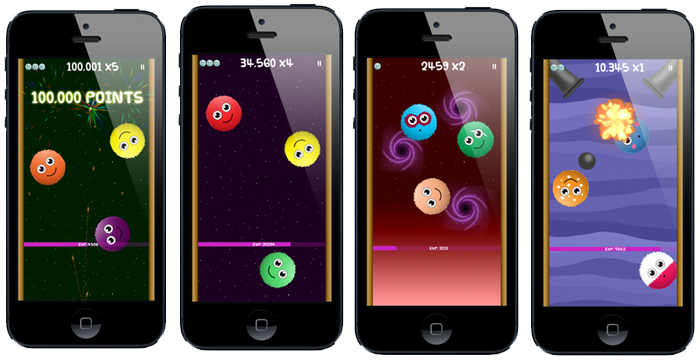 **Edited pictures so there not so massive!**
---
Last edited by Digital Panda Studios; 10-21-2013 at

08:44 AM

.