$50, $25, $10 Customized Gift Cards Contest for MineSweep Jet Hero
---
Fellow TouchArcaders,
5/29/13 - The winners have been decided!
First Place ($50): m13 - - Gift Card ordered,will ship soon
Second Place ($25): phrenik - Gift Card ordered,will ship soon
Third Place ($10): armoko - Gift Card ordered, will ship soon
Congrats to you all and thank you for the detailed reviews!!!. I will contact you via toucharcade to get more details so I can send the gift cards out to you.
For those who did not win anything this time around, we will have future contest for upcoming games. Just go to
www.koloza.com
and join our mailing list or follow us on twitter at
www.twitter.com/kolozagames
5/29/13 - The contest is now closed and we are reviewing the entries to pick the winners. Thank you all for participating!
Koloza Games is a fairly new Indie Game Development Company. To generate some buzz, we are giving away three customized Visa Gift Cards of $50, $25, and $10 values!
The cards will go to the top 3 reviewers of our latest Arcade style iOS flying game, MineSweep Jet Hero.
If you win, you will receive a customized Visa Gift Card with our logo and a thank you note. The gift card will look similar to this one: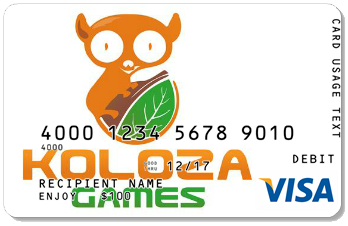 How to participate:
1. Like us on Facebook:
MineSweep Jet Hero Facebook Page
2. Download and review MineSweep Jet Hero.
MineSweep Jet Hero FREE download.
3. Come back to this thread and post your review ID.
The contest is open WorldWide. We will mail the card to you if you reside overseas.
The contest will run for a week, starting today from 5/21/13 to 05/28/13. Our team will pick the top three reviews and announce the winners on this thread.
To be updated with future game contests held by Koloza, you are welcome to sign up to our email list at
http://www.koloza.com
(not required for this competition).
Check out this Youtube Demo of the game:
http://www.youtube.com/watch?v=HtWs4J-Kef0
Thanks,
Frederik Koetje
Koloza Games Developer
Facebook:
https://www.facebook.com/pages/Koloz...61216267259279
Follow Koloza Games on Twitter:
https://twitter.com/ikoloza
---
Last edited by freddieje; 05-31-2013 at

12:53 PM

. Reason: Updated Text