Joan Mad Run – Bloody indie scroll shooter for pixel lovers.
---
The final update - 2016.05.03
Finally, a game we first posted about on 07/24/2013 is finally out now, on 05/03/2016 :-)
Thank you all for support during all that time, for loving our other games and for providing us with a priceless first hand feedback.
Welcome to the
ready game thread
and enoy the game
Update from 2016.04.25
Great news, dear friends!
The
App Store has approved Joan Mad Run
and we already know the release date!
The long-awaited day is
May 3rd, 2016
!
Dozens of meticulously designed kickass weapons, eerie bosses, deadly traps and spectacular death effects - it's all in there! Hope you will take a peek and stay
And in the meantime here are
2 fresh gameplay gifs
(below) and
trailer
(above):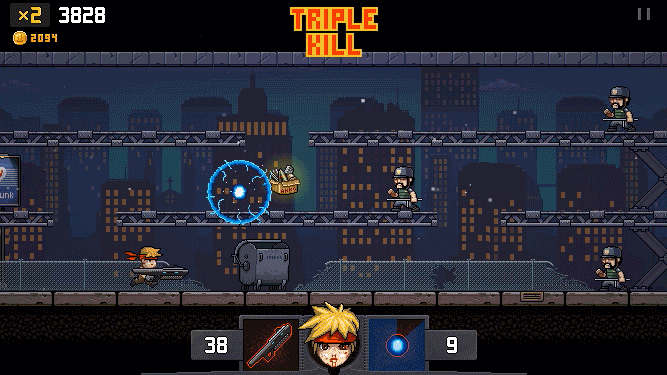 Update from 2016.04.23
Dear TA members,
I've to apologize for a little premature upping of the thread without updating it to the actual state of the game and without synchronizing my effort with the team. Not all features we wanted it to have will see the light upon the upcoming initial release. Features like cross-platform multi-player, pets and character customization, controllers and video streaming support are not in there. Although we wanted to implement it all, the final decision was to keep it simple and eventually stop in order so the game would see the light of life. Otherwise, the development would take a year more of our work – so, when the other part of our team joined the project to speed it up, we fixed lots of bugs, added polish, redesigned weapon effects, and updated it for new devices.
Nevertheless, the game should feel a very rewarding experience – there is Joan, there are lots of insane guns, gore, pixels, kills, and death effects.
The actual information about the game, new screenshots and videos are being prepared and will soon be posted here. Until then, those of you, who didn't read about it earlier, can enjoy the spectacular pixel craft in the older screenshots and videos. However, please take into account, that in the current build there is more polish then on many of the older screenshots.
The previous announcement:
Finally, the build is submitted for Apple review with an approximate release date in about two weeks (in the beginning of May) =)
The full game is to be FREE with a soft and fair monetization scheme like in our latest game Tomb of the Mask. Tried to not repeat the issues that the first release of TotM had - more close to the update of TotM with fair leader boards and etc. Stay tuned for more updates =)
Older Media/Screenshots *
* - new ones are coming soon
Joan Mad Run is a pixel-art gory fight-to-the-death run'n'gun, that takes your enemies straight to hell. Literally.
---
Follow us on Facebook to track updates
http://www.facebook.com/Happymagenta
---
Last edited by Happybyte; 05-03-2016 at

11:00 AM

. Reason: main post content update